Magnolia Bark extract
Product name:Magnolia Bark extract
Specification:
Magnolol 2%~98% and Honokiol 2%~98%
Test method:HPLC
Molecular formula: C18H18O2
Molecular weight: 266.3
CAS No.: 528-43-8(Magnolol), 35354-74-6(Honokiol)
Storage: Store in cool & dry area, keep away from the direct light and heat.
Shelf life: Two years in proper storage.
Packing: 25 KG / fiberboard drum or as the customer's request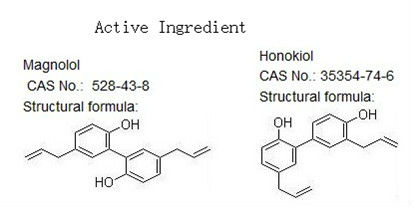 Function
1.Powerful antioxidant in cardiovascular diseases;
2.Inhibit bacteria growth and viral infection;
3.Alleviate anxiety, improves sleep and relieves insomnia;
4.Anti-tumor and anti-cancer;
5.Anti-inflammatory and anti-canker;
6.Protect the brain from Alzheimer's disease;
7.Anti-dental caries and anti-periodontal disease;
8.Cure the habit of tobacco.