Diethylenetriaminepentaacetic acid DTPA CAS 67-43-6 is white crystalline powder,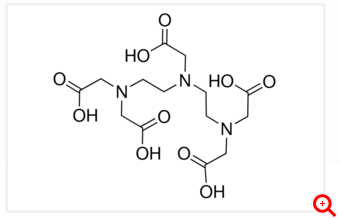 soluble in hot water and lye, slightly soluble in water, solubility in water (20℃) 5 g / l, and do not dissolve in organic solvents such as alcohols and ethers. Melting point: 230℃(decomposition)
Specification
Appearance White crystal powder
Assay ≥99.00%
Chelate value(PH=11) ≥252mgcaco3/g
Heavy Metal (Pb) ≤0.001%
Fe ≤0.001%
Cl ≤0.01%
SO4 ≤0.50%
Loss on drying ≤0.20%
PH(1% water solution 25℃) 2.10 ~ 2.50
Applications
1) DTPA is mainly used for sequestering metal ions that otherwise decompose hydrogen peroxide, which is used to bleach pulp in paper making.
2) DTPA is used for the chelating titrant.
3) DTPA is used for aldehyde, ketone, chloride of reductant plastic foaming agent, etc.
4) DTPA is used as the complexing agent, treatment for radioactive isotopes and heavy metal poisoning.
5) DTPA is also used for color processing kit chemicals, acrylonitrile concentrate decoloring agent, etc
Packaging
25kg per kraft paper bag or as per customer's requirements.