Characters:
Vitamin C is a white crystal or crystalline powder. Its melting point is 190℃~192℃, no odour and sour taste. It is easily dissoved in water, slightly dissovled in ethanol and not dissovled in chloroform and diethyl ether. Vitamin C is a kind of soluble vitamin and has very strong reducibility. It is easy to break down when heat or in the solution. And it is easier to be oxidized in alkaline conditions. Vitamin C in food is absorbed by the upside of small intestine. Once absorbed, it will spread in to the soluble stuctures of the body.
Specification
TEST ITEMS
SPECIFICATIONS
Appearance
White or almost white, crystalline powder or colourless crystals
Melting point
About 190℃, with decomposition
Infrared Absorption Spectrum
Infrared absorption spectrum accord with the reference spectrum of ascorbic acid CRS
pH (with 5% water solution)
2.1 ~ 2.6
pH (with 2% water solution)
2.4 ~ 2.8
Appearance of solution
Clarity : clear; Colour: ≤BY7
Specific optical rotation
+20.5 ~ +21.5
Loss on drying
≤0.4%
Impurity E
≤0.2%
Related substance

Impurity C: ≤0.15%

Impurity D: ≤0.15%

Unspecified impurities: ≤0.10%

Total impurities: ≤0.2%

Copper
≤5.0ppm
Iron
≤2.0ppm
Arsenic
≤3.0ppm
Lead
≤2.0ppm
Mercury
≤1.0ppm
Cadmium
≤1.0ppm
Heavy metals
≤10ppm
Sulphated ash
≤0.1%
Residual solvents
Meets the requirement
Assay
99.0%~100.5%
Recommendation On Use
Vitamin C can be used in wheat flour and its maximum usage is 0.2g/kg.
It also can be used in Concentrated fruit and vegetable juice and the usage should be according the requiremens of the production.
Vitamin C is used in fruit juice and carbonate beverages for prevent from going oxidative deterioration. Theoretically every 3.3mg Vitamin C can react with 1ml air. If the average assay of the air in the bottom clearance of the container is 5ml, 15-16g Vitamin C will make the oxygen assay in air be lower than critical level. And then prevent the products from discoloring and off-odor. Citric Acid can be used as synergist when Vitamin C was used as antioxidant.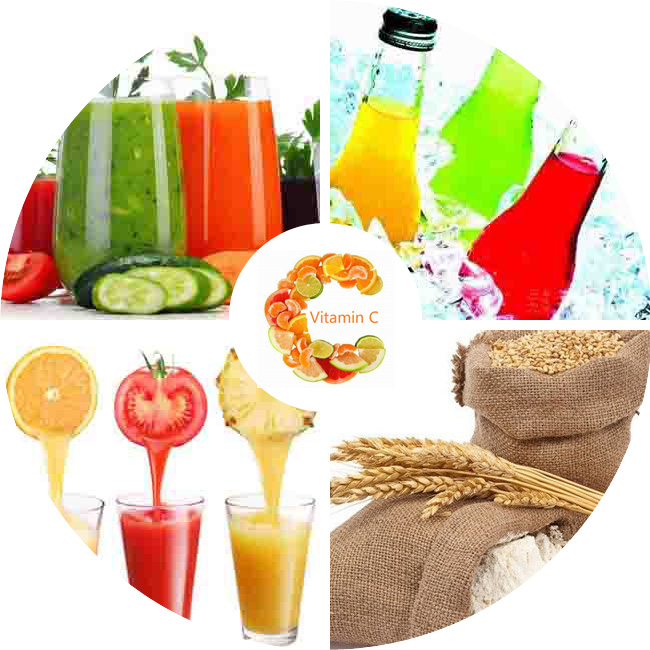 Packages:
25kg/carton or according to the requests of the customers.
Store in a tightly closed container and a cool, dry place under an inert atmosphere. Do not store in direct sunlight.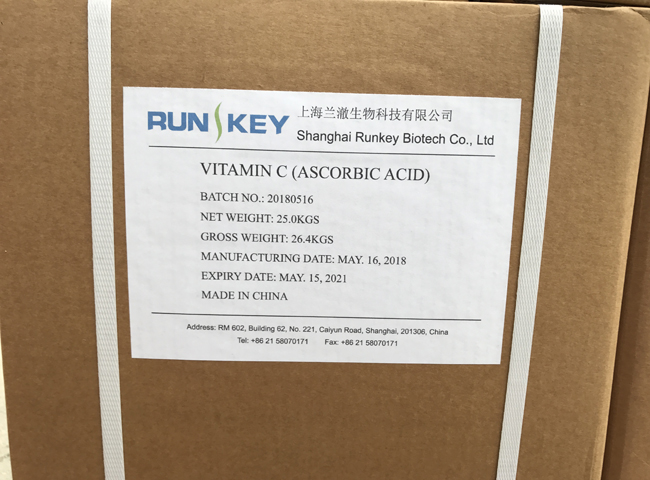 1. What about the validity of the products
Generally our shelf life is 3 years and we always make sure 80% shelf life of the products before shipment.
2. What documents can you provide
We can provide commercial invoice, packing list, MSDS, certificate of analysis, Certificate of origin, TSE/BSE, GMO etc. and if you have any other requirements, please feel free to let me know.
3. What is your payment terms
We have T/T, LC, DP, Paypal, Moneygram and many other payment terms. For the first cooperation, we prefer T/T in advance or LC at sight.